News
Insights from #AlumniLive Seminar with Juraj Valachy
13 June, 2023
At the end of May, #AlumniLive seminar series at CERGE-EI brought together students and alumni for an insightful session with Juraj Valachy, the Director of the Institute for Financial Policy (IFP) at the Ministry of Finance of the Slovak Republic.
Juraj, a CERGE-EI PhD in Economics graduate, is one of the most recognized experts in macroeconomics and econometrics in Slovakia. In the seminar, he shared his expertise on the role of analytical institutes in the Slovak government and the significance of data-driven policymaking. The seminar was an opportunity for attendees to learn about his personal career path, and the work of IFP and specific IFP projects undertaken. As an analytical unit of the Ministry of Finance, IFP plays a pivotal role in providing evidence-based insights and data-driven recommendations to policymakers. IFP, one of the oldest public administration economic think tanks in Slovakia, holds a distinguished position among top analytical units in the country. By leveraging macroeconomic models, econometric tools, and rigorous research, IFP equips the government with insights necessary for effective decision-making.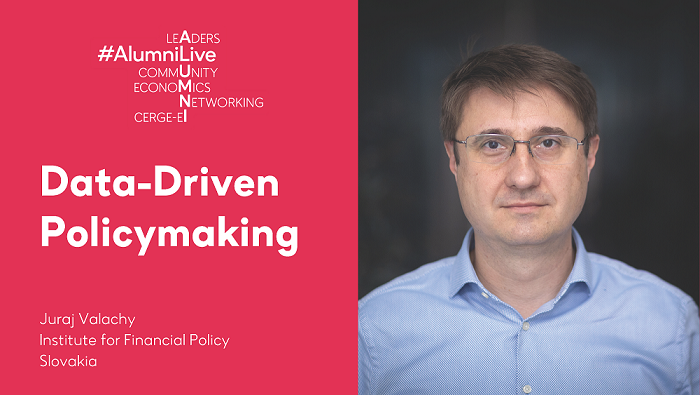 The seminar also offered a unique networking opportunity for CERGE-EI students to network. Success in today's interconnected world often relies on more than just individual skills and knowledge. Building a strong network and nurturing relationships with like-minded professionals can open doors to new opportunities and accelerate personal and professional growth.
#AlumniLive is a series of networking events for CERGE-EI students & alumni. We bring inspiring alumni to hold #AlumniLive Seminar or to informally network with alumni at #AlumniLive Coffee.