News
WEast conference 2023
12 June, 2023
Christian Ochsner
is co-organizing a small conference. It will be the
WEast conference
that aims to promote Economic History of Central - and Eastern Europe. Prominent speakers are, among others, Andrei Markevich and Matthias Morys.
You find the flyer for the event attached.
The talks are open to all of us. We encourage PhD Students and Candidates interested in economic history and economic figures in CEE to join the conference whenever possible. If you want to attend the talks on Friday or/and on Saturday, please indicate your presence HERE: https://1url.cz/Yutsj
Please sign-up until June 10. Note that we have lunch (finger food) at 1:30pm on Friday, and at 12:15pm on Saturday. We ordered 20 lunches for each day, and 14 are already reserved. Thus: only 6-7 can have "free lunch"; I will give priority to PhD Students/Candidates if too many people aim to have lunch. The conference dinner is not open to non-speakers.
Looking forward to see some of you in this lovely small conference!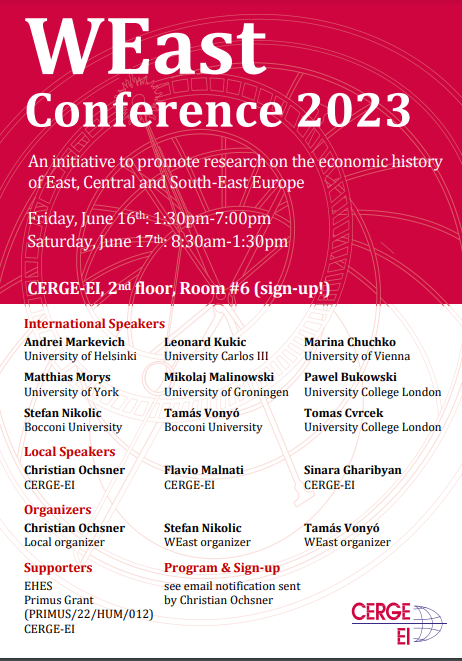 ---