PhD Program Overview





The PhD in Economics at CERGE-EI is a top quality graduate program which consists of two years of coursework that equips students with the systematic knowledge of economic theory and empirical research techniques, and independent but closely supervised PhD dissertation research. Similar to top western institutions, the program has an integrated Master program and the successful completion of the two years of coursework results in awarding of MA degree. The research phase concludes with the dissertation defense and the students receive a Czech and US PhD degree.

You can download the program poster and leaflet in section Study > Downloads
Start
October
Application deadline
March 31 (23.59 CET)
Duration
Four to six years full-time
Tuition fee

No tution fees
Entry requirements

BA

*

or MA degree
Language of instruction

English
Location


Prague, Czech Republic



* We accept applications from outstanding BA holders who wish to pursue a PhD education. In order to be admitted to the US PhD program, the students with only a Bachelor degree must simultaneously enrol into the Master in Economic Research program. This is due to the Czech Higher Education Act 1998, s 48(3): 'Admission to a Doctoral degree programme is conditional on the completion of studies in a Master's degree programme,' Applicants with only a BA degree are therefore required to simultaneously apply for the Czech MA in Economic Research program to study for the Master in Economic Research.
---

PhD in Economics Program Structure

PhD in Economics students pass through two major stages during their studies at CERGE-EI: Core study and research.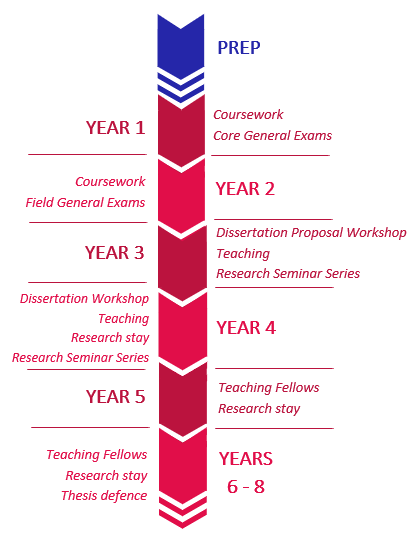 1. Core Study

The first and the second year of study each consists of three semesters of coursework. First-year courses offer advanced education in Microeconomics, Macroeconomics and Statistics/Econometrics; there are no electives. Second-year courses consist of two-semester sequences of elective courses.

In the first two years, students also attend courses in academic writing and presentation skills organized by the Academic Skills Center (ASC).

During the second year, students attend a Research Methodology Seminar that guides them through the first stage of independent research when they look for and narrow down the research topic for their dissertation.

MA Degree in Economics

Students who successfully complete first- and second-year coursework and pass General Exams are granted a Master of Arts degree in Economics, which is chartered by the New York State Education Department (see the listing on the NYSED website, program code 24734).

Students who meet the PhD requirements continue in the PhD program. Students who do not continue in the PhD program are required to submit an MA level Thesis in order to receive the MA degree.

Students who are also enrolled in the Czech MA in Economic Research program and successfully defend their thesis receive a Master in Economic Research diploma issued by Charles University.
2. Research

In their third year, PhD in Economics students choose their dissertation topic and their Dissertation Chair. During the specialized study, students present their Dissertation Proposal and Dissertation research-in-progress to the Dissertation Workshop Committees. During this period, students work as Research Assistants and Junior Researchers. They also gain teaching experience by serving as Teaching assistants (at least one semester of teaching is a requirement for the PhD degree). Students are also encouraged to spend about one semester on a fully funded research stay. On their own or in cooperation with faculty members and researchers, students publish their work first in the CERGE-EI Working Paper Series and subsequently in top international journals. The PhD study is concluded by a public defense of the doctoral dissertation.

Students attend regular Research Seminar Series and other research events offered at CERGE-EI, such as conferences or workshops. These provide students with first-hand contact with the most up-to-date research conducted by the top experts from the best academic places worldwide. Students are strongly encouraged to discuss their own research with the many visiting scholars at CERGE-EI.

PhD Degree in Economics

After a successful defense, PhD in Economics students are awarded a PhD degree accredited by the Ministry of Education, Youth & Sports of the Czech Republic, as well as a PhD degree granted by the Board of Regents of the Education Department of New York State, USA.

For more details see Academic calendar.
---