Building History
Previous Structures on the Site
The first known structure on the site of what is now CERGE-EI was a pharmacist's home during the time of Charles IV (1346–1378). The street was then known as "Angel Street," and the pharmacist was especially known for his kindness to the sick. To this day, all Czech pharmacies bear the symbol of an angel.
Later, the pharmacist's home was demolished and a palace was constructed on the site by Kristof of Wallenstein. The palace was destroyed by fire in 1757, and the remains were purchased by the Merciful Brethren. It then became the site of a convent-hospital operated by the Brethren. Eventually Austrian Empress Maria Theresa bought the property and converted it into a facility to accommodate some of the many children orphaned by the famine and plague of 1771.
The Current Building
The present building was commissioned in 1871 by well-known entrepreneur and railroad builder Baron Jan Schebek. Since buildings at this time were generally identified not with addresses but with names; it came to be known as "The House of Angels." The three-story building was designed by architect Ignác Ullman. Its most striking features include a marble staircase and ceilings painted by Viktor Barvitius.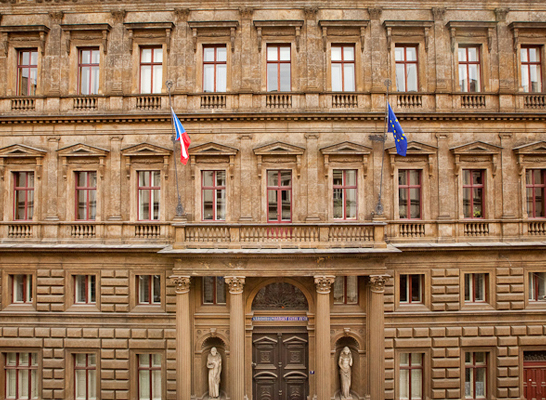 The Building in Modern Times
In 1890, Baron Schebek's son sold the palace to the Austro-Hungarian Bank, and thus began the long association of the building with economic activities in the Czech lands. In 1918, after the founding of the First Republic (independent Czechoslovakia), the building became the headquarters of the State Bank of Czechoslovakia. During World War II and the Nazi Occupation, the Gestapo used a building on the same street as its headquarters. As a result, the street today bears the name "Street of Political Prisoners" (Politických vězňů).
In 1963, ownership of the building was transferred by the National Bank to the Czechoslovak Academy of Sciences, which made it the seat of its Institute of Economics. In 2008 the current Economics Institute assumed full ownership of this historic building and is proud to provide it as the headquarters of the cooperative project that is CERGE-EI.