CERGE-EI
CERGE-EI (Center for Economic Research and Graduate Education - Economics Institute) is a joint workplace of Charles University and the Economics Institute of the Czech Academy of Sciences. Sergey Slobodyan serves as the Director of CERGE, Charles University, and the Economics Institute of the Czech Academy of Sciences (EI), since January 2019. View our staff and governance profiles, and learn more about CERGE-EI below.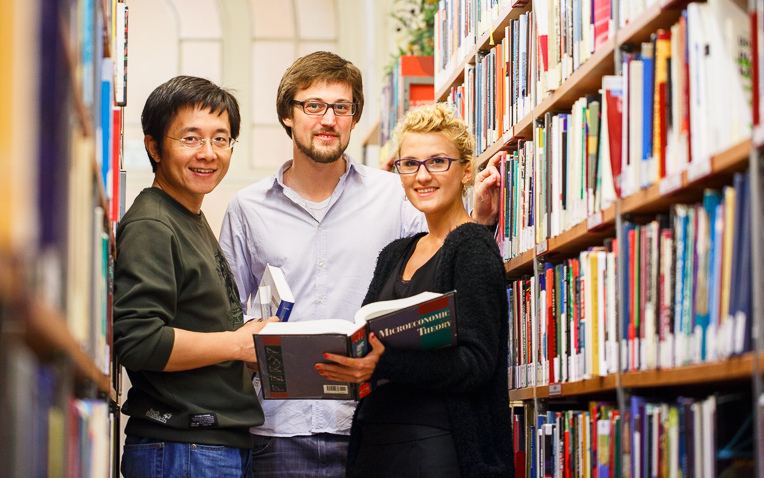 CERGE-EI entities
CERGE, Charles University
Economics Institute (EI), Czech Academy of Sciences
CERGE-EI, New York
CERGE-EI Foundation
Nadace CERGE-EI
Global Impact and Reputation
CERGE-EI is ranked globally in the top 10% of economics institutions by SSRN and in the top 5% by RePEC. It is the Central and East European Regional Network representative for the Global Development Network (GDN) – a leading worldwide network of policy and research institutes in the area of development economics.
CERGE-EI alumni pursue academic careers in prestigious university departments around the world and rise to senior positions in the private and public sectors.
In the global university rankings of Economics, the standing of Charles University as a single entity shown below reflects the outcomes of both CERGE-EI and IES combined:
Shanghai Ranking's Global Ranking of Academic Subjects 2021
Global position in Economics: 101st-150th. For more details, visit this page.
U.S. News Global Ranking of Universities 2021
Global position in Economics and Business: 142nd. For more details, visit this page.
QS World University Ranking 2022
Global position in Economics and Econometrics: 139th. For more details, visit this page.
Western-style Graduate Economics Education
CERGE-EI has an absolute charter issued by the New York State Board of Regents in the United States, and is fully accredited by the Ministry of Education, Youth & Sports of the Czech Republic. It offers two graduate programs in Economics:
PhD in Economics, a rigorous program designed for outstanding students interested in economic research. Similar to top western institutions, the program consists of two years of MA-level coursework and two or more years of dissertation research. Students who successfully complete the two years of coursework receive a US MA in Economics degree. The majority of students receive a tuition waiver and a living stipend. Graduates receive both US and Czech doctoral degrees. The program accepts outstanding BA and MA holders. BA holders are required to simultaneously enroll into the Master in Economic Research and submit a Master thesis at the end of the second year.
Master in Economic Research, a rigorous program designed for outstanding students who have completed their undergraduate studies (BA holders) and are interested in economic research. Graduates receive a Czech degree fully accredited by Charles University. The program is an integral part of the PhD study track at CERGE-EI. Students simultaneously enrolled in the PhD study track (of the PhD in Economics program) receive a living stipend.
Masters in Applied Economics, an intensive, empirically based program designed for ambitious students interested in gaining the essential practical skills demanded by local and international employers. The program is tuition based and students receive a US MA in Applied Economics degree.
Lectures by Nobel Laureates and Other Top Scholars
CERGE-EI has a long tradition of hosting public lectures by Nobel Laureates in Economics (16 to date) and other distinguished speakers, recently including Ed Glaeser, Eric Maskin, Christopher Sims, and Joseph Stiglitz.
Premiere Economics Library Open to the Public
The institute operates a modern economics library that is unique in the region in terms of the accessibility and breadth of its collection of over 100,000 volumes, including all relevant international scientific journals and online databases.
Academic and Policy Oriented Research
CERGE-EI researchers have established a remarkable record of professional careers and publications in top international academic and policy-oriented journals, unparalleled in the region.
CERGE-EI also runs a policy-oriented think-tank, the Institute for Democracy and Economic Analysis (IDEA), in order to apply its know-how to important policy issues and to raise its visibility and impact among policy and opinion makers.
Teaching Economics in Transition Countries
CERGE-EI's Teaching Fellows Program is designed to boost Western-style undergraduate economics education throughout transition economies, and to encourage Western-educated economists to return long-term to their home countries to become teachers and academic reformers. Since 2007, the program has reached 74,500 students, through 1,400 courses, at 115 universities in 25 countries.
Non-discrimination Policy
CERGE-EI seeks talented students, faculty, and staff from diverse backgrounds. CERGE-EI promotes a diverse learning environment where the dignity, worth and differences of each individual are valued and respected. Discrimination and harassment, whether based on a person's race, gender, color, religion, national origin, age, disability, or other legally protected characteristics, are repugnant and completely inconsistent with our objectives. Retaliation against individuals for raising good faith claims of harassment and discrimination is prohibited.