News
CERGE-EI Researchers Have Received GA CR Grants
9 January, 2023
CERGE-EI researchers Sebastian Ottinger and Vasily Korovkin have received grants from the Grant Agency of the Czech Republic for the years 2023-2025.
Sebastian Ottinger: The Effects and Origins of National and Local Political Institutions
Host Institution: CERGE UK
Sebastian Ottinger's project aims to conduct cutting-edge research on the effects and origins of national and local institutions. In his project, Sebastian will be using novel data and research designs permitting a causal interpretation of identified effects, drawing on – and linking – European and American economic history.
The project itself consists of three sub-projects aiming at the analysis of:
the origin of the French Revolution in 1789, the most dramatic change in institutions in Europe to that date,
the effects of parliamentary power in constraining European monarchs' power, and
the effect of local institutions in education, which enabled the United States to become an international leader in literacy.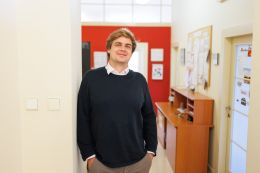 Vasily Korovkin: The Effects of Wars and Conflicts on Production Networks: Evidence from Russia, Ukraine, and India
Host Institution: Economic Institute of the CAS
The world economies are becoming increasingly interconnected, measured, for instance, by trade links. This pattern is typical for developed economies, where production networks are increasingly complex. While also embedded in the global supply chains, many developing economies face substantially different issues.
Following this logic, Vasiliy's project focuses on military conflict and other political-economy shocks prevalent in emerging economies. The first part of the project uses 2012-2021 Russian railway transaction-level data to understand the propagation and the distributional effects of sanctions on the Russian economy. The second part of the project focuses on the domestic trade in Ukraine during the first Russian invasion of 2014. Using data on Ukrainian railway shipments, the project will also document propagation effects and separate the results of the exogenous firm removal and the subsequent endogenous network adjustment on firm revenue distribution in a production networks model. In the third part, Vasily will study the industrial transition in India and focus on the evolution of linkages between agriculture and development.