News
Congratulations to Our Alumni Excellence Fellowship Recipient
6 December, 2022
We are proud to announce the recipient of the Alumni Excellence Fellowship for 2022/2023: Tereza Hofrichterová. Thanks to CERGE-EI's Alumni and the Board of Nadace CERGE-EI for sponsoring this award and for their support. Our alumni fundraising call has raised four Alumni Excellence Fellowships since its establishment in 2019.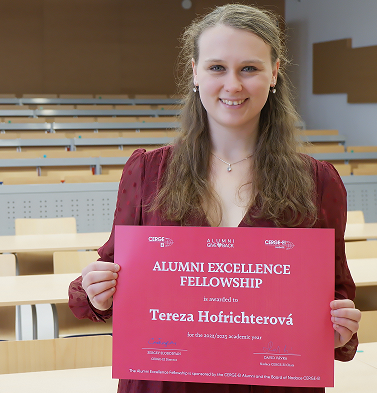 "It has been a challenging year for many of us. It is therefore reassuring to know that the CERGE-EI alumni community stands together as ever in these troubled times. At CERGE-EI Nadace we are very grateful for generosity and continuous engagement of alumni, to which we can support Tereza and other students. It is truly exciting to see how many alumni contribute to this effort. It is a sign that feelings of fraternity resonate strongly within the community and that CERGE-EI alumni wish to pass this transformative experience of CERGE-EI studies onto others," said David Vávra, CERGE-EI Nadace Board Chair and 2003 PhD alumnus.
Sergey Slobodyan, a CERGE-EI director, added: "CERGE-EI started more than 30 years ago as a place whose raison d'etre was to educate the new generation of economic professionals for all walks of life, to facilitate the process of transition to the market economy and democratic society, and to help policymakers with evidence-based policy. We have excelled in all these endeavors, and you, our graduates, are part of this proud story. While the transition might be over, our work is just beginning. The war in Ukraine, energy crisis, climate change, population ageing - the list of problems that face this region is long. The countries of our mission space will need more and more future central bankers, country specialists at international organizations, government officials, CEOs and partners, and academics, to navigate the problems and make informed decisions that would benefit entire societies - exactly as our alumni are doing today. We will continue to educate all of them. That is also why we have established the Student Support Fund as an additional subsidy to our students. We are proud that many of CERGE-EI alumni have contributed to the fund and that with their help we can award an Alumni Excellence Fellowship this year again. We hope for their continuous support and donations in order to make sure that the bright light of knowledge that has shone from Schebek palace in 1991 never extinguishes."
The Alumni Excellence Fellowship is meant for newly enrolled students ranked as the very best by the Admission Committee and remain among the top quarter of the first-year cohort based on their cumulative GPA ranking. It can be awarded to second-year students who manage to pass the first-year general exams with a PhD pass and rank among the top three students of their study cohort.