News
Filip Matějka Wins Prestigious ERC Grant
21 October, 2015
It is a great pleasure to announce that Assistant Professor Filip Matějka has been awarded a European Research Council (ERC) Starting Grant. Filip's proposal, "Inattention", is structured around his primary research field of rational inattention theory and applications, with policy implications in areas such as simplicity of tax policy, behavioral economics and mental accounting, and the interaction of voter inattention and the macroeconomic environment. The underlying common thread is how humans economize on and prioritize their scarce attention.
He is the first Czech national affiliated with a Czech research institution to win an ERC grant as a principal investigator in the field of Social Sciences and Humanities.
"This is a remarkable achievement for Filip Matějka and an acknowledgment of the research potential in the area of rational inattention and its implication for public policies. This grant is a confirmation of CERGE-EI's mission to focus on rigorous top quality research and economic education and an encouragement to the many young and talented scholars exploring economic and social sciences", says CERGE-EI Director Michal Kejak.
"The ERC grant is one of the most competitive awards for young scientists globally. Filip Matejka's achievement as well as CERGE-EI's dedication to top quality economics research and education is inspirational throughout the region and shall be applauded. This is a landmark that sets CERGE-EI on a par with the best economic institutions in the world", says Jan Švejnar ESC Chairman.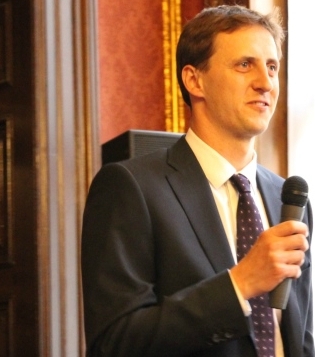 European Research Council grants are among the most prestigious European research awards and support individual researchers of any nationality and age who wish to pursue their frontier research. The ERC encourages in particular proposals that cross disciplinary boundaries, pioneering ideas that address new and emerging fields and applications that introduce unconventional, innovative approaches.
Last year, Filip organized the second conference on "Rational Inattention and Related Theories" in cooperation with scholars from the University of Oxford. In 2013 earlier he organized the first round of the conference at CERGE-EI, with Christopher Sims as the keynote speaker. Read more about the conferences and Filip's research agenda on the CERGE-EI blog.