News
Teaching Fellows Course Participants Treated to Surprise Nobel Laureate Visit
19 August, 2019
Participants of the 2019 Teaching Fellows Course had an unexpected opportunity to meet with 2004 Nobel Prize in Economics Laureate Finn E. Kydland who was in Prague to work with CERGE-EI's faculty member Marek Kapicka and Carlos Zarazaga (Federal Reserve Bank of Dallas).
He told the group of the small decisions that were made at an early age that put him on track to being an economist. Professor Kydland recalled that he was proud to have been able to invite a key professor from his past to the Nobel Prize ceremony. Kydland noted, "If it wasn't for him I might have lived a boring life as a businessman."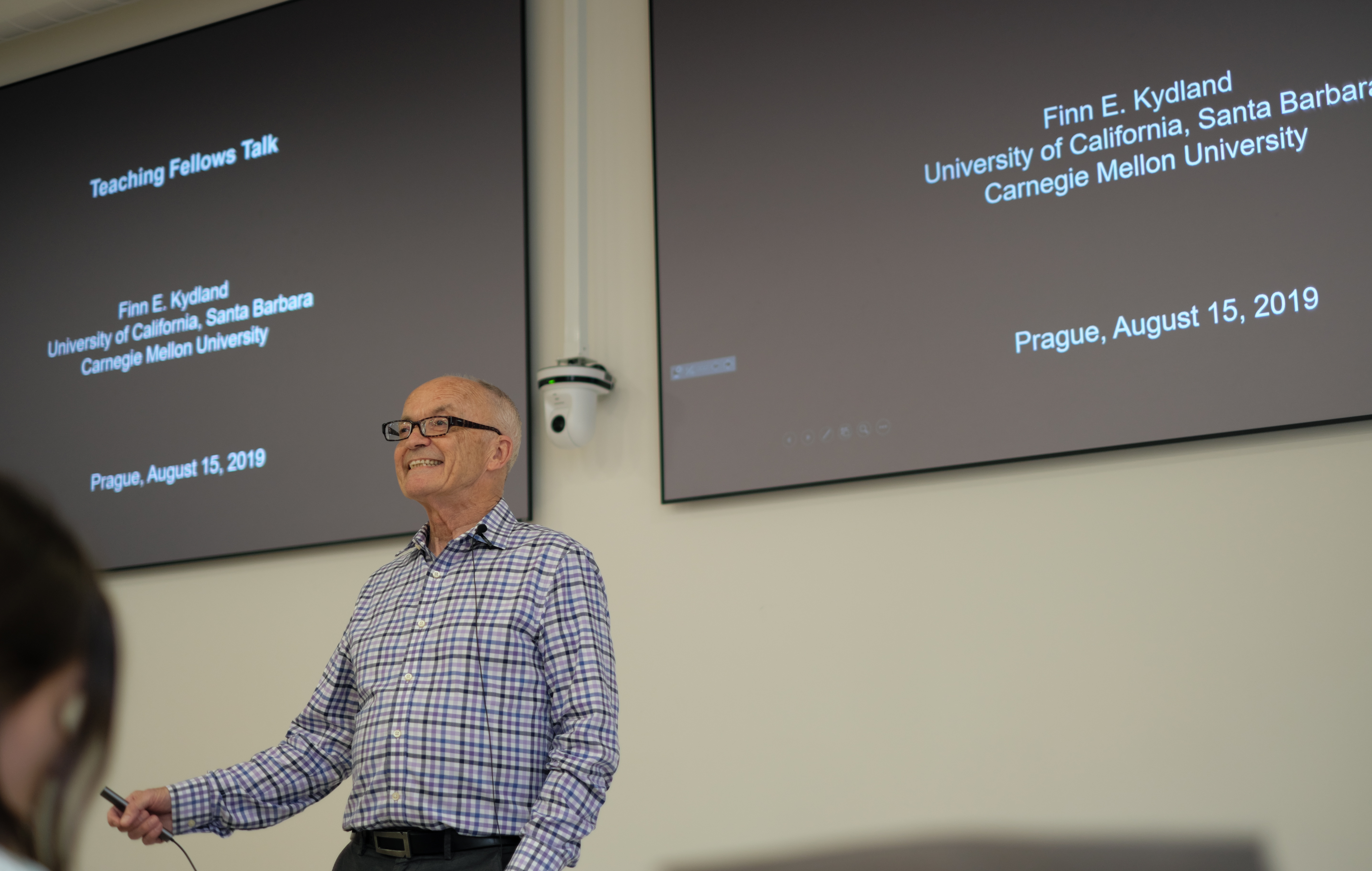 In introducing Professor Kydland, CERGE-EI Acting Director Sergey Slobodyan reminded the audience this was not the first time Professor Kydland visited the Schebek Palace, noting that he delivered a public lecture on innovation and capital formation at CERGE-EI in 2015.

"This time, [Kydland] is here to work with Marek Kapicka, one of our most dedicated faculty members. We are very grateful that he found a few moments in his busy schedule to speak with the CERGE-EI Teaching Fellows," he added.

Some 65 new Teaching Fellows from more than a dozen countries are participating in the 2019 Teaching Fellows Pedagogical Course. The course features workshops and group discussions on modern Economics teaching practices and also provides an excellent opportunity for young teachers in different countries to meet.

The CERGE-EI Teaching Fellows program was launched in 2007 to increase the quality of undergraduate teaching in Economics faculties throughout the CEE and CIS regions.

Since then, Teaching Fellows have taught in 25 countries, reaching more than 140,000 students. In the 2019/20 academic year alone, 158 courses will be taught by Teaching Fellows awardees at 78 universities in 22 countries.