News
Richard Podpiera: COVID Was Not a Walk in the Park
8 December, 2021
"How have banks survived the pandemics? And what are the trends in the banking industry?" In the Talking Economics Podcast, Katarína Stehlíková asks Richard Podpiera, CERGE-EI's Ph.D. Alumnus and ČSOB's Executive Director.
Richard thinks that banks have proven to be quite resilient during the pandemic: "But that does not mean that COVID was a walk in the park. We were shocked as any other industry, perhaps even more because banks are generally leveraged plays on the economy. From one day to another, we had to resolve operational issues."
Richard sees two new directions in the banking industry's future. "Sustainability (green, energy, responsible behavior) and the effort of banks to be useful and relevant in client lives – simplify the way services are provided, estimate what clients want based on increasingly sophisticated data models, and provide most relevant offers and help to clients at the right time and through the most convenient channel."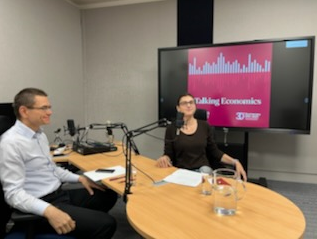 Richard Podpiera is CERGE-EI's Ph.D. Economics Alumnus and ČSOB's Executive Director. He manages retail group segments at ČSOB, one of the largest banks in the Czech Republic. Richard is also a lecturer of Master's in Applied Economics, teaching Corporate Finance and Valuation courses at CERGE-EI. Prior to his current engagement, he has also worked for McKinsey&Company and for the International Monetary Fund in Washington, D.C.
You can listen to Talking Economics on several platforms, including Spotify, Google Podcasts, Apple Podcasts, and YouTube.