News
Libor Krkoška: Crisis Response Is in Our DNA
19 July, 2023
In the most recent episode of Talking Economics, we discuss the European Bank for Reconstruction and Development's response on world changes with Libor Krkoška, our alumnus and the EBRD Deputy Director, Country strategy.
The European Bank for Reconstruction and Development is an international financial institution, established in 1991 to help Central and Eastern Europe transition to a market economy after the fall of communism. How has the bank's mission changed over time and what are its priorities now?
"The EBRD was established more than 30 years ago and initially it was focused relatively broadly on the support for the private sector introduction in former centrally planned economies in Central and Eastern Europe. Over time, our focus changed on support for the green economy, digitalization, inclusion, and helping to create equal opportunities for everybody. The support for the environment and commitment to sustainability has always been central to EBRD activities. (…) We expect that this type of investment addressing climate change challenges will account for more than 50% of our overall investments by the end of 2025," says Libor Krkoška. "Crisis response is in our DNA as an institution. Our work is about finding solutions, not about describing problems," he adds.
Listen to Talking Economics on Spotify, Apple Podcasts, or YouTube.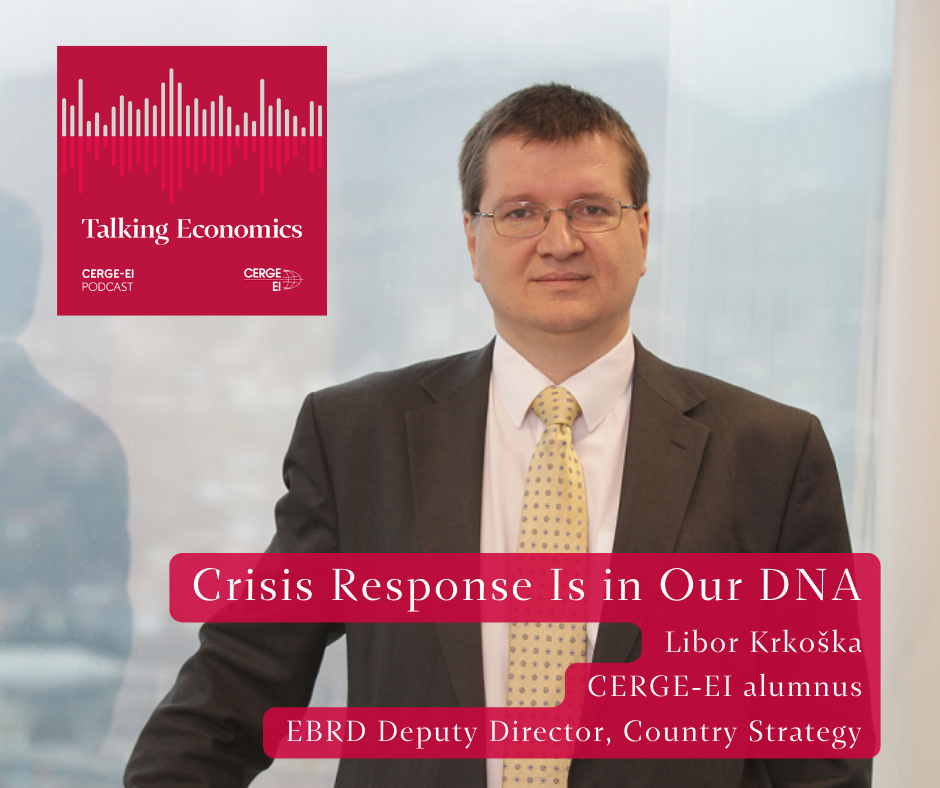 Libor Krkoška is a CERGE-EI PhD in Economics alumnus and the EBRD Deputy Director, Country Strategy. He joined the bank in 1997, working in the Chief Economist Office and then as Head of Office in Moldova, Bosnia and Herzegovina, and Cyprus.