News
Levent Çelik Awarded the Jan Švejnar and Katherine Terrell Teaching Prize
1 October, 2014
It is a great pleasure to announce that Levent Çelik was awarded the Jan Švejnar and Katherine Terrell Teaching Prize for 2013/2014.
The award is based on the average student rating of the CERGE-EI faculty in the first and second year graduate courses. The rating is based on the questions that refer to the overall quality of the faculty member as a teacher.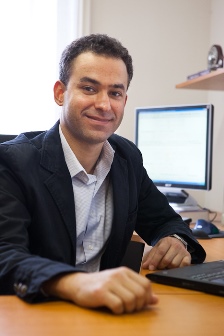 The Jan Švejnar and Katherine Terrell Teaching Prize has been awarded annually since 2001. Štěpán Jurajda was the first faculty member to receive the award (for 2001/2002). In recent years, the winners were Jakub Steiner (2012/2013), Peter Katuščák (2011/2012), and Michal Bauer (2010/2011, shared with P. Katuščák).
The goal is to publicly recognize the best teachers of economics at CERGE-EI, emphasize to the CERGE-EI community the importance of teaching excellence in our institution, and communicate to CERGE-EI students that their evaluation of faculty is considered an important part of the CERGE-EI mission.