News
People of CERGE-EI: Meet Our Alumni
28 March, 2022
Zurab Abramishvili, a PhD graduate from 2017, returned to his home country and became an Associate Professor of Economics and Head of Undergraduate Studies at the International School of Economics (ISET) in Georgia. What does he like about working in academia and what research projects is he currently working on? Find out in our Blog interview.
"I have always wanted to do policy-relevant research on Georgia's economy," says Zurab Abramishvili, our PhD in Economics graduate in an interview for the CERGE-EI Blog.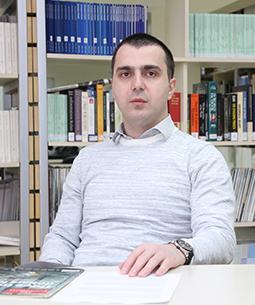 "Georgia transformed tremendously during 2003-2015. Our government implemented dozens of significant policies, but a majority of them had never been studied by scholars. I wrote all three of my dissertation chapters about Georgian social reforms and have continued doing research regarding such policies in Georgia. One of the more dear-to-my-heart projects I'm currently working on with a co-author is using the National Examination and Assessment Center (NAEC) data of university admissions to introduce a quantitative measure of the value added by Georgian universities and create a ranking based on that measure. We will then compare our ranking to the international ranking and provide policy-relevant advice based on the difference," Zurab explains.
Read the full interview here.