Articles
In memory of Professor Jan Kmenta (1928-2016), the CERGE-EI Library has been renamed the Jan Kmenta CERGE-EI Library. One of the most influential economists of Czech origin, Professor Kmenta was the author of the internationally respected book "Elements of Econometrics", which is today used by universities worldwide. He was a long-time visiting professor at CERGE-EI and member of our Executive and Supervisory Committee. Above all, Professor Kmenta was an outstanding teacher, mentor and supervisor of both CERGE-EI students and faculty.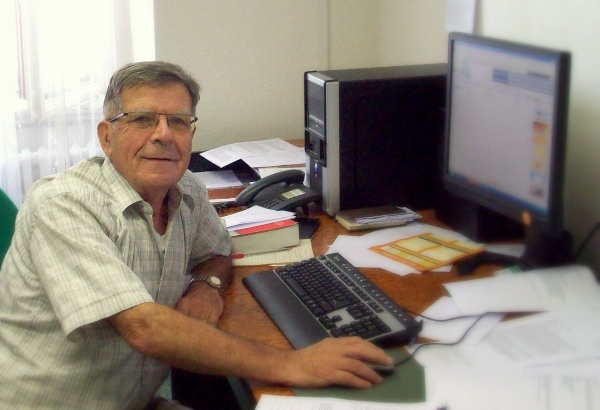 Established in 1992, the Jan Kmenta CERGE-EI Library has grown into a rich resource of modern economics literature and houses an extensive international collection of books, journals and databases. Today it is considered the best library of its kind in Central and Eastern Europe and, as such, it is an important center for library services in Economics.

In commemoration of Professor Kmenta and his outstanding contribution to the CERGE-EI community, we have established the Jan Kmenta Library Fund. Our goal is to raise $50,000 by the end of 2017. Donations will be used to fund the purchase of books, manuscripts and journals. As of November 1, 2017, alumni and staff have donated over $30,000, including a matching $10,000 from Professor Randall Filer, President of the CERGE-EI Foundation which was awarded when the first target of $10,000 by the date of the 2017 Gala was reached.
Donations can be made easily, in the manner of your choice:
(To donate by Credit Card, we use Paypal for credit card processing. You do not need a PayPal account to donate).
By check, made out to the CERGE-EI Foundation and mailed to:
CERGE-EI Foundation
26 Broadway, Fl 8
New York, NY 10004 USA
Your donation will be acknowledged by return mail, and e-mail, immediately upon receipt.
By cash, to Filip Kašpar, CERGE-EI Foundation Administrative Director, Room 447, 4th Floor at the CERGE-EI building in Prague
By Wire Transfer, to either the CERGE-EI Foundation (USD) or Nadace CERGE-EI (CZK):
Contact us for details at

This email address is being protected from spambots. You need JavaScript enabled to view it.
We are happy to answer any questions you may have at any time. Please send us your request for information.