Facts and Figures
Student Nationality and Gender
"CERGE-EI benefits enormously from being able to select top students from all the transition countries. First, this means they are bright. In addition, and this is a peculiarity of CERGE-EI, their backgrounds provide a rich pool of experiences that allows the study of transition in a way that goes beyond the particular institutions and histories of their home countries."
Ronald Anderson, Professor of Finance, London School of Economics
CERGE-EI Students Are From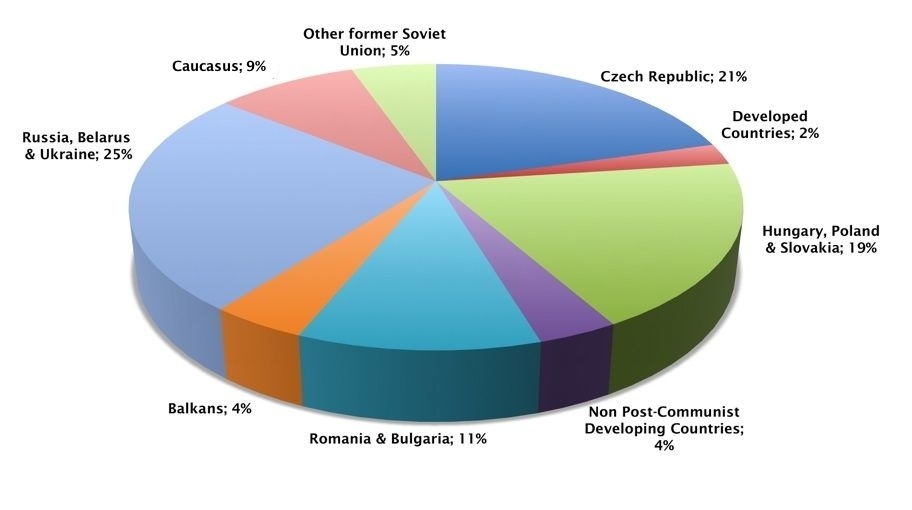 As students and scholars from CERGE-EI, 40 percent of whom are women, assume leadership positions, their outlook on international issues will have been shaped by CERGE-EI's multinational environment and their periods of international study. Knowledge and understanding gained at CERGE-EI enable its graduates to help promote peace and economic stability in potentially turbulent regions such as the Balkans, Caucasus and Central Asia. Links forged at CERGE-EI help secure Russia and other former Soviet countries firmly as a part of the West.
Graduate Placements
"A first-rate Ph.D. program. The fact that CERGE-EI has such high quality students with such diverse backgrounds makes it unique in the world."
Joseph Stiglitz, Professor, Columbia University;
former Chief Economist, The World Bank;
2001 Nobel Laureate in Economics
CERGE-EI Graduates Work In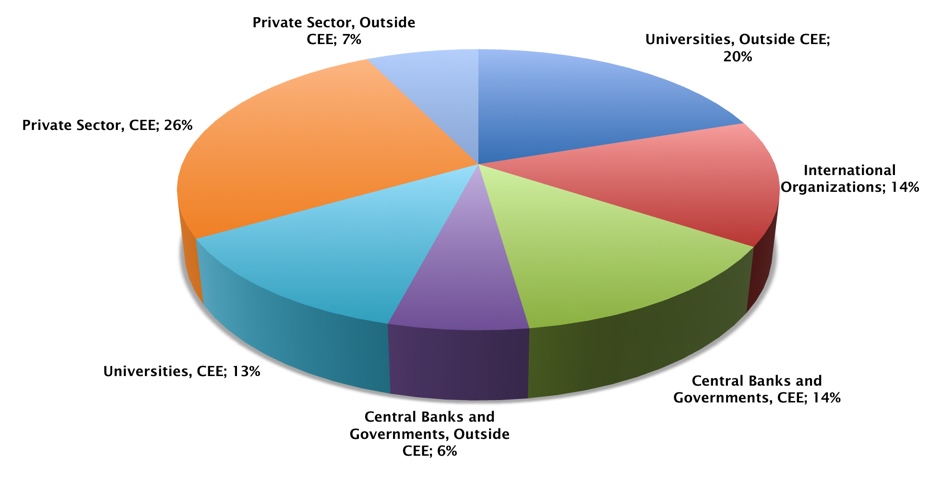 The vast majority of CERGE-EI graduates remain in their home region or deal with regional issues in their work for international organizations. This stands in sharp contrast to the fewer than 10 percent who return to Central and Eastern Europe (CEE) after receiving PhDs in economics from leading Western programs.
Research Rankings
"CERGE-EI has achieved remarkable pre-eminence in economic research and in the training of economists. CERGE-EI scholars and graduates are playing a key role in economic policy design in post-communist Europe."
Kenneth S. Rogoff Thomas D. Cabot
Professor of Public Policy and Economics, Harvard University;
formerly, Economic Counsellor and Research Director, International Money Fund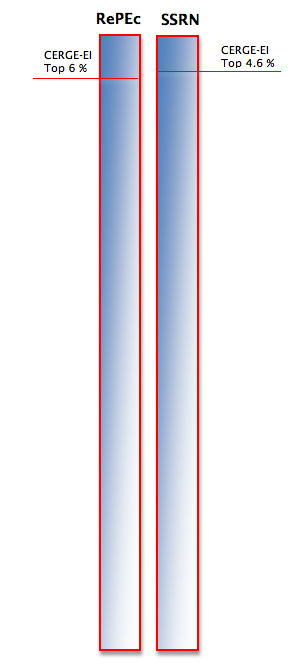 With only a few dozen researchers, CERGE-EI is consistently ranked among the organizations producing the most high-quality economics research. As examples:
The Social Science Research Network (SSRN) in its ranking of the Top Economics Departments & Research Centers, placed CERGE-EI as No. 58 out of 1,236 institutions worldwide. 1
Research Papers in Economics (RePEc) has ranked CERGE-EI in the top 6% of economic departments/research institutions in Europe.2
During 2005-2009 CERGE-EI generated almost four-fifths of the aggregate output published by economists in the Czech Republic in journals with an impact factor above the median value in Economics3.
---
1http://www.ssrn.com/institutes/top_institutions_transfer_files/top_institutions_transfer_files.html
2http://ideas.repec.org/top/top.inst.all.html
3In the same ranking, the University of Economics Prague (with approximately 700 full faculty members) ranked No. 267, and the Department of Economics at Charles University in Prague ranked No. 554
Income and Expenses
"The work is incredibly important. Investing in the education of these remarkable young men and women and what they will contribute to their countries is both socially responsible and smart business."
Alan J. Brown, Group Chief Investment Officer, Schroder Investment Management Limited
Income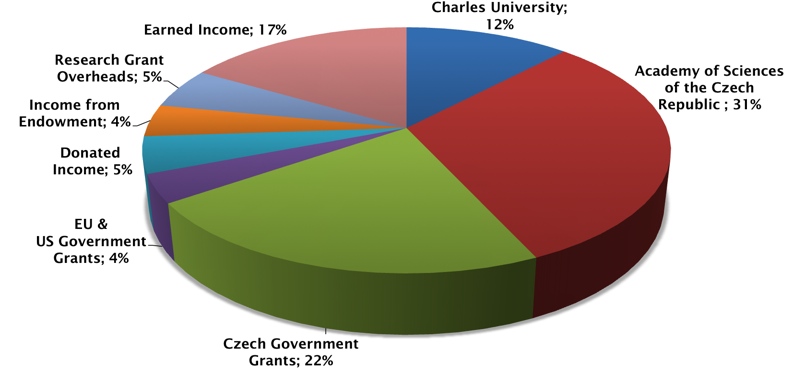 Expenses