PhD in Economics
"A first-rate PhD program. The fact that CERGE-EI has such high quality students with such diverse backgrounds makes it unique in the world."

Joseph Stiglitz, Professor, Columbia University, 2001 Nobel Laureate in Economics
The CERGE-EI PhD in Economics is a US-style program designed for outstanding students who desire a rigorous graduate education in Economics at a prestigious international institution. Our students aim to pursue academic careers in respected university departments around the world, or to enter high level positions in international organizations, central banks, government ministries, or in private sector organizations.
The program consists of two years of coursework, followed by approximately two to three years of supervised PhD dissertation research. The program leads to an MA degree in Economics awarded under an absolute charter granted by the State of New York, USA, and to a PhD degree in Economics which has an absolute charter granted by the State of New York, USA, and is fully accredited in the Czech Republic under the Charles University in Prague. Graduates thus receive both a US and a Czech PhD degree.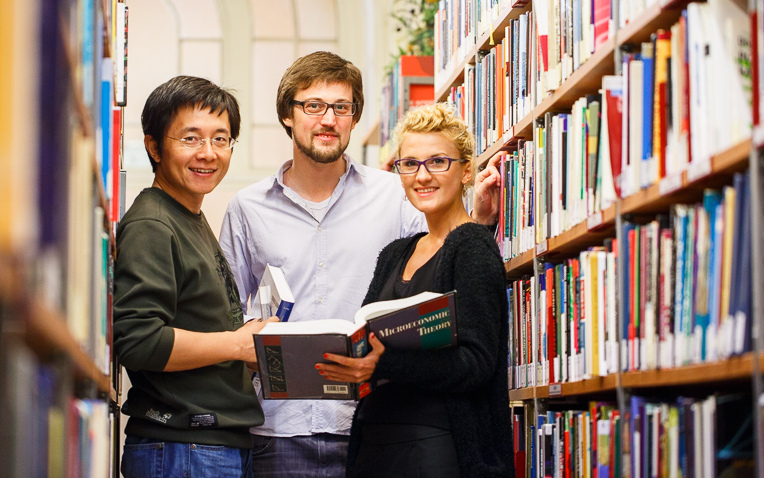 International Recognition
The Social Science Research Network (SSRN) ranks CERGE-EI in the top 2 percent of more than 1,500 research institutions worldwide. Research Papers in Economics (RePEc) ranks CERGE-EI in the top 5 percent of economic departments/research institutions worldwide. CERGE-EI has been recognized as a Center of Excellence by both the European Union and the US government.
International Faculty
Our faculty members are outstanding researchers who publish widely across a broad range of fields in theoretical and applied economics. They hold PhDs from many of the worlds' top graduate programs including Princeton University, the University of Chicago, the London School of Economics, and University College London.
Diverse Student Community
CERGE-EI students come from 35 countries and have diverse academic backgrounds including degrees in economics, mathematics, international relations, physics, computer science, engineering, business and sociology.
Full Financial Support for PhD Students
The majority of the PhD in Economics students are fully supported through tuition waivers and stipends and research and teaching opportunities, and can thus focus fully on their studies.
Study Stays at Top US and European Universities
PhD in Economics students are given support to spend a semester on mobility, so that they can conduct part of their dissertation research working with experts in their field at leading universities in Western Europe and North America.
Research Opportunities
PhD in Economics students often join in faculty research projects. They are also encouraged to publish their research work, and they regularly receive conference travel support.
Successful Alumni
CERGE-EI's PhD and MA in Economics graduates are employed in 32 countries worldwide. They typically pursue academic careers in prestigious university departments around the world, or hold high-level positions in international organizations, including the World Bank, IMF, EBRD, OECD, government ministries and central banks, think-tanks, and private sector organizations, including major banks and consulting firms.
Individual Approach
Thanks to the small size of the institution, our PhD in Economic students are able to discuss their research projects and ideas in depth with faculty members. The Academic Skills Center helps students to develop their professional and PhD level written and oral communication skills. The PhD Study Affairs Office provides students with complete personalized support, ranging from visa assistance to helping with adaptation to life in Prague, and a lot more.
Campus in the Center of Prague
The CERGE-EI building is located in the center of Prague, a beautiful and affordable European city with a great social and cultural life.
Download PhD in Economics program leaflet or poster in Materials for Download.