Student Life
CERGE-EI students form a very special community. Classes are small and students know each other well. The CERGE-EI experience is that of a close-knit family with a diversity of interests. You will always find someone with whom to study or to share your interests outside of class.
Sports Activities
Softball Team
Traditionally, the talented CERGE-EI team participates in the Heavy Hitters Softball Tournament held each year. The tournament is well-attended by over 300 people and the funds raised from the event go towards educational programs. Though for many students softball is a new game, after some practice they are welcome to join our team, the Invisible Hands, and have a lot of fun.

Squash Tournament
Squash has become an even more popular sport among the CERGE-EI community. Each October, CERGE-EI students and alumni hold a tournament in the nearby squash center. Everyone is invited to come, support their team, network, and enjoy the action.
Ski Trips
At least once a year (in January), students and faculty pack their skis and snow boards and strike out to the Krkonoše Mountains situated in the northern region of the Czech Republic to prolong their holiday a bit before the new semester begins.

Students Activities
Coffee Breaks and Movie Nights in the Student Club
The student club provides an environment where you can relax and read a book, chat over a coffee, or play games. Even better, why not watch a movie with your colleagues after a long day? Movie nights have a tradition at CERGE-EI – thanks to the diversity of CERGE-EI students, you can enjoy the best movies from the countries of your friends and colleagues and get to know their cultures a little better.
International Food Party
At the beginning of the academic year, the CERGE-EI courtyard becomes a buffet of traditional food and drinks from around the world. Taste "bryndzové halušky" from Slovakia, Ukrainian "boršč", Czech "nakládaný hermelín", Russian fish salad, and good Georgian wine or Ethiopian coffee.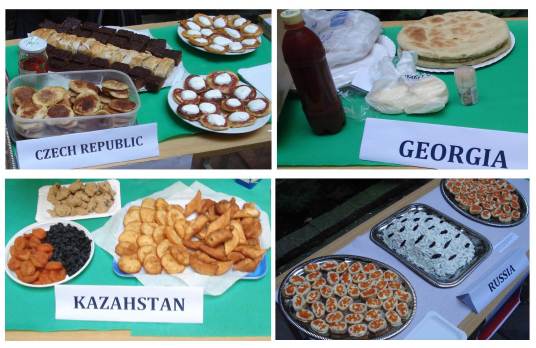 Beer Parties
Czech Republic is famous for its beer. Several times each semester, an evening event is organized in a typical Prague pub to enjoy good beer in an informal atmosphere with friends, professors, and alumni.
Enjoying Prague
Prague is a spectacular city, filled with a rich collection of cultural heritage and activities, and is one of the best-preserved medieval cities in Europe. CERGE-EI is located in the center of Prague (see Contact Details), within walking distance of its main attractions. There are many pubs, restaurants and clubs nearby, which provide students with many opportunities for exploring the city together.
Ladronka Park
Hot and sunny weather transforms Prague into one of the most beautiful places in the world. Ladronka Park is an ideal place for skating, beach volleyball, and barbecue. Just grab a blanket, some sandwiches, good sangria and good friends, and head out to this marvelous spot.